In search of the perfect Distributed Exchange
Some coins might fail badly and some coins might become grand success and become a household name in couple of years. But irrespective of what Cryptocurrencies and Blockchains are here to stay. Anybody who has spent some time studying the fundamentals of some good coins can tell you this.
Euphoria
In a couple of years the Euphoria around cryptos and the 5x, 20x and 100x returns might die down and we will start looking at stable currencies with gradual increase in their value. But there is still time for that. Irrespective of what time you entered the crypto world, you are still an early adopter and remember that.
CryptoYogi
If you have learnt to find balance between FOMO and FUD, if you do not get all hyped about 2x, 3x returns in a couple of days, if you do not get worried by 20% to 30% market crashes, if you don't cry over missed trains you have found your feet in Cryptos. You can call yourself a crypto yogi.
The search for next sleeping Giant
There are many people who are in search of the next sleeping Giant. It is a very tough job to do as there are so many problems that the new companies are trying to address and finding the right companies that will scale up is always a challenge. Personally I started with finding coins that could solve the problems that Bitcoin has, then I started looking at privacy coins, then I tried looking at coins which could act as platform for other coins and ICOs, then I started looking at Chinese versions of successful coins.
Loosing the sleep and peach of mind
I have been successful to a certain extent with each of these approaches. But of late I have seen the most crazy bull run of altcoins and it is becoming very difficult to keep track of all the new ICOs that are happening. I have joined a couple of exclusive groups which are helping me save me time. But still there is a lot of overload. Once I make some more money from my investments I am planning to hire a full time PA for my crypto portfolio management :P In the mean time I am planning to take a low risk medium returns approach to keep my Blood pressure under control.
Low risk and medium returns

A brief look at the above graph and you know that the interest in cryptocurrencies has only been increasing. This not going to die down soon. I did a simple test recently. I asked two questions "Have you heard of Bitcoin?", "Have you invested in Bitcoin" in my office, friends get together and cousins get together. The answer to the first question has been mostly yes. That is a great improvement considering the scenario almost six months when the answer used to be "No". For the second question only around 10% of people have invested in Bitcoin. So it means that the number of investors in cryptocurrency is only going to increase over the time.
Observation 1 : Interest in Cryptocurrencies is going to increase over the time.
Now that we know the interest in cryptocurrencies is going to increase over the time the next step is to identify the well rewarding coins. This is easier said than done. Take a look at the screenshots below and you would know what I am referring to.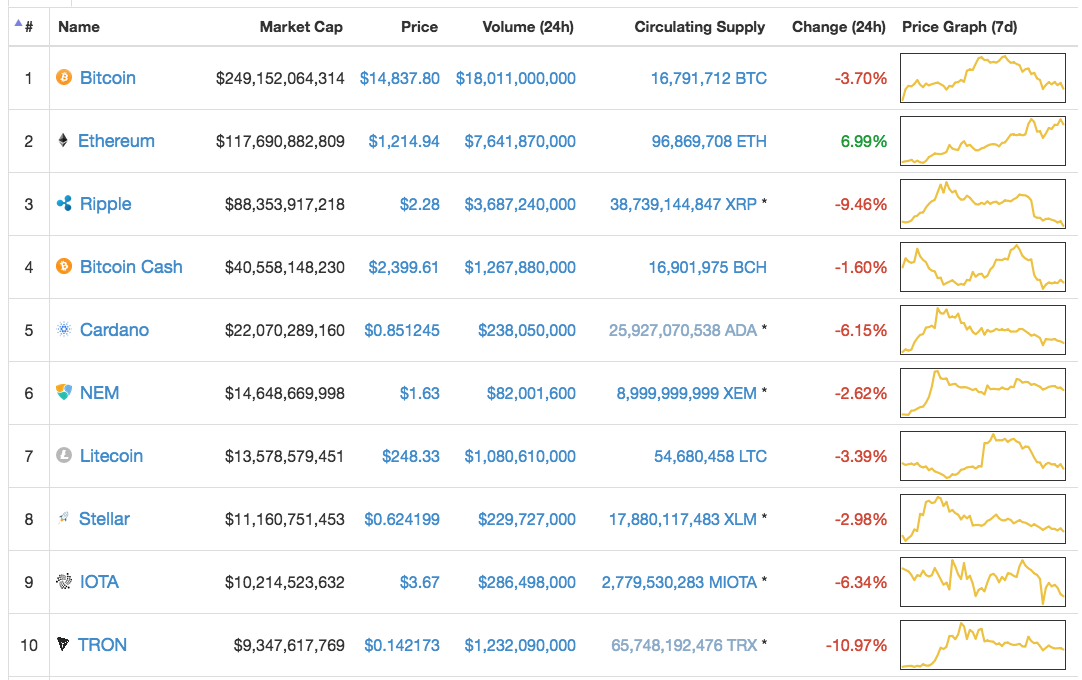 This screenshot should be pretty clear to you as these are the top 10 coins today. Now take a look at the screenshot below.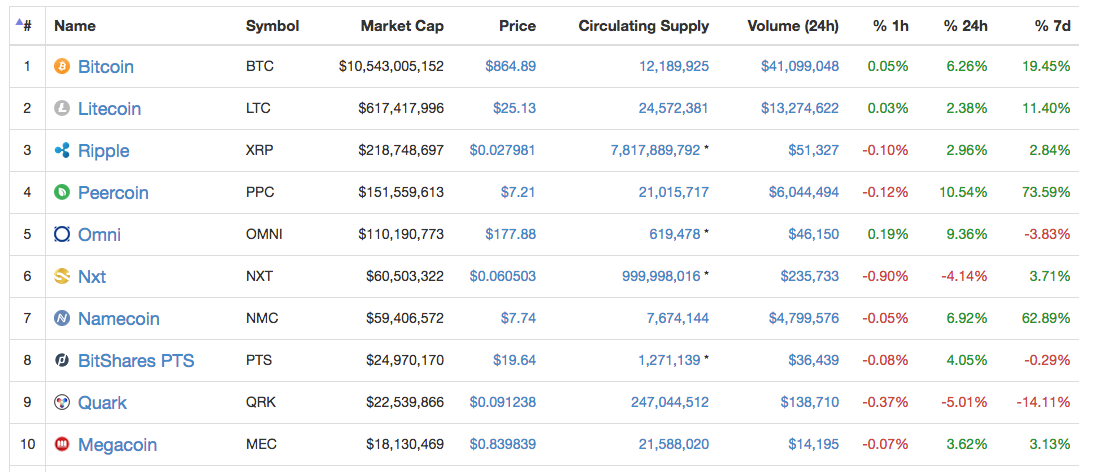 These are the top 10 coins from January 05, 2014. How many of these can you identify? Not many other than the top 3 right? That is exactly my point. There are many coins in that list that were in Top on Kan 05, 2014 but not even in the top 30 list today. And there are many coins that were not even present back then but have made it to the Top 10 list today. So if you want to be invested in the top performing coins you have dedicate a lot of your time and resources. You should also note that established coins in the top 10 generally tend to give you low returns when compare to the new and promising coins.
Observation 2 : It is difficult to identify the coins that give you good return on investments.
Having made these two observations I was trying to see how to make the best of these two observations. I was thinking of selecting the projects which would benefit by the increase in the overall interest in cryptocurrencies but their performance is not tied to the individual projects. So the two options were either investing in Index funds/tokens like https://www.bitwiseinvestments.com/ , https://crypto20.com or investing in popular/upcoming exchanges. While investing in Index funds seems to be a good idea it has been observed that they do not give good returns compared to the portfolios of most of the active traders. Most of these index funds do not invest in upcoming coins or ICOs. Hence there returns are not that great. So the next option is exchanges.
Investing in Cryptocurrency exchanges.
By far this seems to be the best approach to me. Let me explain why.
The exponential increase in interest in cryptocurrencies is testing the limits of many systems and portals. The big two Poloni Exchange and Bittrex couldn't handle increase in traffic to their portals. Poloni Exchange was miserable in its customer support. I moved all my stash away from PoloniExchange after having a very bad experience with them. While loosing most of your stash can be catastrophic, what is worse is the customer support that just doesn't care. Experiences like these have pushed people to start looking for alternatives. Binance and Kucoin have tried to fill this void well. If you look at the https://coinmarketcap.com/exchanges/volume/24-hour/ volumes you can see that Binance is already top exchange with highest volume and Kucoinis at the 16th position. I am personally hoping for Kucoin to succeed over the time as it seems to more promising than Binance. In addition to these I am monitoring Bitshares, Kyber Network and Cobinhood. While I have some preferences amongst these I think all five of them have lots of growth potential and will keep inching towards the top. The pace of cryptocurrency adoption is almost exponential at-least for the next year or so there will be scope for all these. Once the interest moves from exponential to linear I am thinking two of these coins will be there and others might move oblivion slowly. I will be writing individual reviews of each of these over the month. In the mean time here are the short reviews.
Bitshares

I think that was the first distributed exchange and it was in top 10 earlier. I have bought a lifetime membership in Bitshares.. I chose a life time membership as I will get 80% cashback on all my trades.
Pros
Proven technology.
With adoption of Steem and EOS this will get more limelight.
There will be some sort of integration with EOS which will increase the utility of trading on Bitshares.
It is more than an exchange. You can create digital assets of your own.
You can run your ICOs on Bitshares.
Bitshares is actually the blockchain or platform. https://bitshares.org/is only the front end. You can use any of the popular front ends you like. If you are a security freak and want to run your own, you can download the exchange from https://bitshares.org/download/ and run it on your own. This way you can avoid the DNS attacks as well.
Cons
Bad UI
Low volumes.
No authentic mobile app.
Ideally I would like to do all my trades on Bitshares. But I don't think it is ready yet. Once the UI improves and there are enough volumes and trading pairs I will move all my trading to Bitshares.
Binance

Currently majority of my stash is present in Binance exchange.
Pros
Sleek UI.
Low trading fees. (0.1% trading fee)
If you have BNB, you can choose BNB to deduct 50% trading fee. It will also reduce the residue issue.
CEO seems to have a cool head.
The whitelisting process for listing coins is good and transparent. It leads to good returns on the listed coins over the time.
They support all bitcoin forks. So you can claim you free coins for all the Bitcoin forks.
Cons
They are having performance issues of late.
New registrations are being blocked. So if you are considering the referrals bonuses it may not be consistent.
It is not a DEX.
They reduced referral bonuses recently.
Kucoin

Pros
Good UI.
Frequent addition of Good coins.
KCS holders get a share of all the trading fees in terms of the top traded coins on the exchange. So if you hold enough KCS it can be a good diversifying strategy. Hold enough KCS and it is like investing small amounts in the top trades coins on this exchange.
KCS holders get preference for complaint resolution.
Cons
There is no stop loss.
They don't have a mobile app.
There marketcap is almost equal to Binance but their volumes are much lower.
Kyber Network

Pros
Trustless instant trades.
In addition to exchange it also support cross chain payments.
Cons
The ICO is done and product is yet to go live.
We may not have sufficient volumes to begin with. Not sure if cross chain payments might help them with their volumes initially.
Cobinhood

Came to know about this only recently. It is marketed as zero transaction fee exchange. If that is the case I am not sure why everybody is not using it. Will update this section after researching a little more about this.
Conclusion
In short I would be using Binance and Kucoin until Kyber Network comes. Once Kyber network comes I Will stick to it until Bitshares becomes usable. But finally I feel Bitshares is going to rule them all. I am accumulating bitshares slowly in every dip. Will do so for the next 6 months.
If you are using any other good exchanges please drop a comment.