Importing you bitcoin and altcoin trades from different exchanges
Entering/Tracking your trades
The first step to track your portfolio is to make sure that all the purchases, withdrawals and trades are exported from any exchange/wallet you use are imported into Cointracking App. This can be done in three ways Enter manually, Import from Exchanges or automatically via the API if your exchange supports it. I had to use a combination of all these three to keep my portfolio upto date.
Manual Entries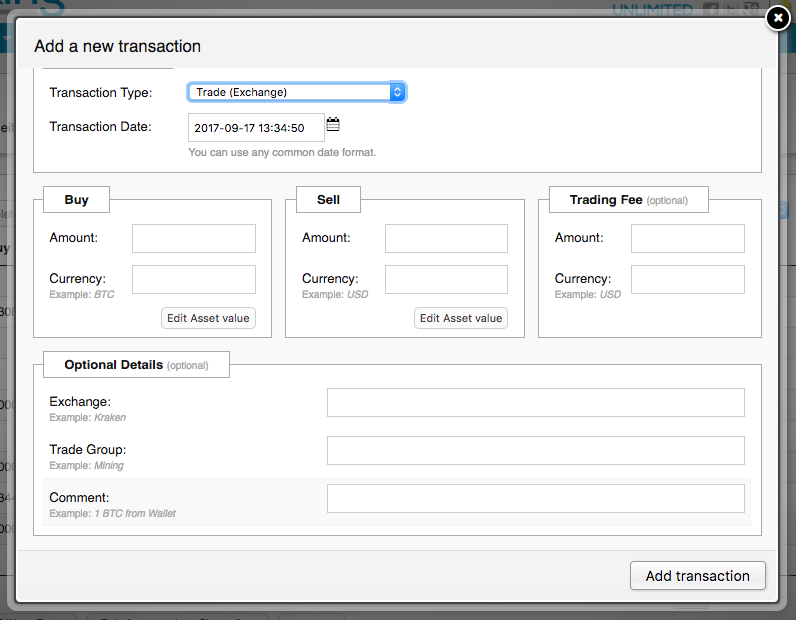 Make sure to enter all the relevant details. Remember to enter all the optional data as well as it can save you when you are trying to delete the trades or edit them. Trade Group helps your group one kind of trades and give details comments to remember later why you had to do a manual entry. Follow this diligently and you will thank me later.
Exchange Imports

In my case CEX didn't have an API and hence I had to go with exchange import option. Cointracking does a cool job of letting you know what kind of transactions are supported by the export provided by the exchanges. Keep an eye on this. Some exchanges doesn't provide you details about deposits and withdrawals. This can have an effect on your summaries. You might need to keep track of those and create manual entries for those to keep your Dashboard upto date.

You need not worry about the duplicate imports as each trade has a unique tradeId and based on it Coin tracking will import only the new trades.
Automated API Imports
Cointracking gives you the details of the supported actions in the API import.


Be careful if you are using the API for syncing your trades. I would suggest enabling the APIs in the exchanges only after enabling the Two Factor Authentication(2FA) and make sure that you only enable the read access in the API. When I was trying to enable the API for Binance I realised that they have all or none access. So your API will either have both Read and Trade access or none. When I saw the API integration screen of Binance I could see the bold read warning message from Cointracking saying that they do not save the API secret key as it has trading access as well. This was good sign for me and my confidence in Cointracking increased after this incident. It is still foolish that Binance doesn't have access restrictions on their API.
Wallet Imports
I have never been comfortable with Offline wallets as I fear that I will miss my private keys :P I have always held back on creating one as there is no way to regain the stash if you loose your private keys. But I had to create one for ether as I wanted to participate in a couple of ICOs.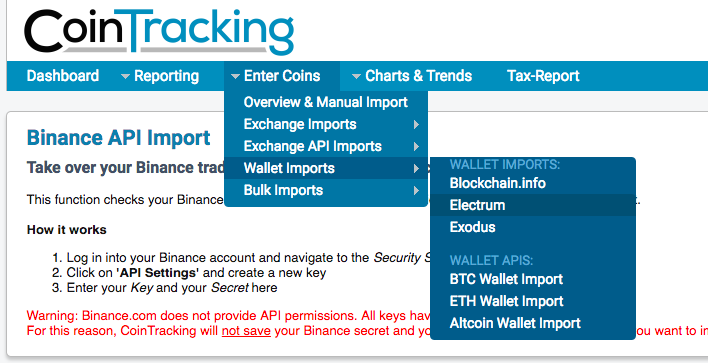 As you can see from the pic Cointracking has support for Electrum and Exodus imports. I hope going forward they will add support for more wallets.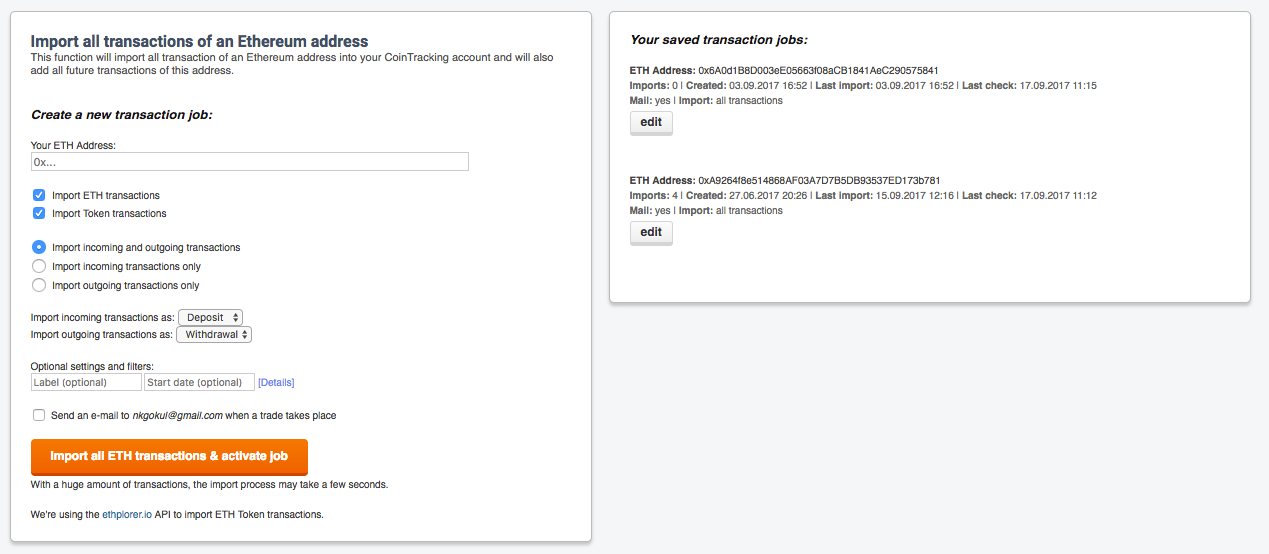 It also has support for monitoring your Bitcoin, Altcoin and Eth addresses meaning it can track the transfers from wallets and it also has a nifty feature of sending out a notification to you when a transaction happens from your wallet. I think that is very handy.